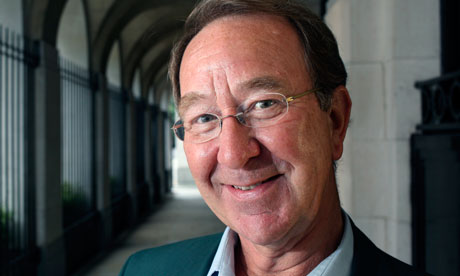 Ian Kershaw
's latest book is called
The End
– and it's the end in more than one sense. Kershaw, biographer of Hitler and anatomist of the Nazi regime, has documented the last nine months of the Third Reich in the book, from the attempt to kill Hitler made by German officers in July 1944 – a coup that would have brought the war to a swift end – to the final capitulation on 7 May 1945, a week after the Führer's suicide. But after about 40 years, he is saying farewell to Hitler, and his next task will be to write the volume on the 20th century in the Penguin
history
of Europe.
"This is the last thing I do on the Nazis," he says. "Finito. But for me this was an unresolved problem. I'd never focused on the last phase of the war, and I wanted to ask how the regime could continue to function for so long. That was the final challenge." With vast armies pressing from east and west, and the war clearly lost, why did Germany will its own destruction? Kershaw's argument is that, unlike in Italy, where Mussolini was deposed in 1943, there were no rival power structures in Germany that could be used to overturn Hitler's rule. All authority flowed from the Führer. The Reich was founded on Hitler's "charismatic leadership", and long after the charisma had faded and the German people had realised the country was being led to catastrophe the power structure tottered on. "I was very struck by the way that even at the very end, as late as 29 April, some of the generals are saying peace is out of the question as long as the Führer lives."
Even on the brink of collapse, some aspects of normal life in Germany continued: Bayern Munich were still playing football matches a week before Hitler's suicide; the Berlin Philharmonic gave a concert just four days before the war ended; and the bureaucrats were being paid until the very end. How did the state machine continue to function? "I was astonished that such an obvious question hadn't been tackled," he says. "In the final phase the top Nazis, Hitler included, were veering between a sense of realism and a sense of illusion. Their remaining hope was that this unnatural coalition" – of the UK, the US and the Soviet Union – "would fall apart and that the west would finally see that the Bolsheviks were the real problem and would cease the war in the west and come in on the side of Germany.
People such as Himmler
had this illusion until the very end. He believed he might be accepted by the west."
Kershaw, 68, was knighted in 2002 for services to history, and his two-volume biography of Hitler, published a decade ago, is likely to remain the standard life for a generation. But he doesn't have an ounce of grandeur. He tells me his wife had to stand over him and virtually force him to sign the letter accepting a knighthood. "I didn't really like the idea very much, and dillied and dallied," he says. "I dislike the neo-feudal title, and have always been a bit embarrassed by it."
Full piece at The Guardian.