Martin Amis at the coffee shop, Paul Auster in the park… New York's newly gentrified neighbourhood is now full of novelists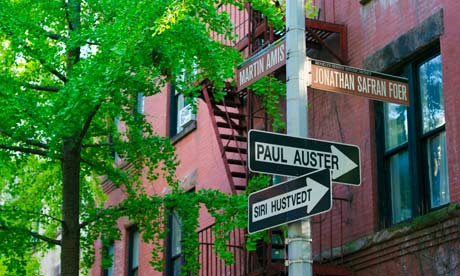 The guy at the checkout at a Brooklyn branch of Trader Joe's, a wildly popular speciality grocery chain, had a spray of blond hair, a masters in literature and a California drawl on the words: "Hey, man." He was packing the soy chorizo into a brown bag when he glanced at the book I was carrying – a copy of
Brooklyn Is
, a 1939 essay by the author and journalist James Agee – and asked if I'd read it. I shook my head. "Man, it's amazing," he said. "Everyone in Brooklyn should read it."
Reading Agee's essay later that day, I kept thinking of that young man and what Agee would have made of him, and how Agee's odyssey of Brooklyn might look if he were to undertake the assignment today. Trader Joe's itself stands in a section of Atlantic Avenue that Agee described as "vacant lots, the ghosts of floors against their walls: and the dark hard bars at street corners". Few of those dark hard bars exist now, but a few blocks west of Trader Joe's stands Montero's, which opened in 1945. Its neon sign and nautical paraphernalia embody something of the era Agee was writing in, but the bar no longer opens at 8am to serve longshoremen coming off the midnight shift. Artists and writers (in search of "authenticity") have replaced the Baltic seafarers. The same is true of Sunny's, a 120-year old bar in Red Hook – a waterfront neighbourhood of warehouses and old single-row homes that served as the inspiration for
On the Waterfront
.
Today Sunny's is popular for bluegrass sessions and literary salons that attract aficionados from across the borough. There is not a night of the week when you can't attend a reading in Brooklyn, or several. Many take place at the independent bookstores that have proliferated in the last few years, or – like BookCourt in Cobble Hill, where I remember waiting in a long line of young tattooed men and women to hear Bret Easton Ellis read – doubled in size. And writers aren't just coming here to read; they are flocking here to live. Some, such as Paul Auster, have been here for decades; others, like Martin Amis (a stone's throw from BookCourt), are fresh off the boat. On Saturdays you can go Pulitzer spotting at Fort Greene's farmers' market, where both Jhumpa Lahiri and Jennifer Egan may be found perusing the vegetables. When Jonathan Safran Foer and his wife Nicole Krauss, author of
The History of Love
, brought a Park Slope townhouse in 2005, bloggers gasped at the $3.5m [£2.26m] price tag.
Full story at The Observer