Understated design for Harry Potter author's first adult novel gets mixed reception. What clues do you think it holds?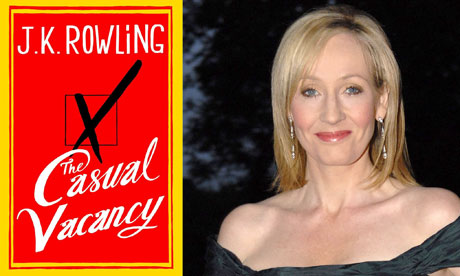 The release of the
cover image for JK Rowling's first adult novel
has unleashed a flurry of speculative tweets. "What's with the lower case i?" wondered our own
@gdnchildrensbks
.
Response to the bold red design for
The Casual Vacancy
, the tale of an idyllic town torn apart by the results of a parish council election, has not so far been entirely positive. "Nice of them to let one of
JK Rowling
's kids design her new cover on MS Paint,"
grumbled @meandmybigmouth
, though
@robobviously took a more positive view, tweeting:
"I quite like this but the content hints towards Miss Read?"
Waterstones' Jon Howells feels it's all a bit of a tease: "While it is great to see such a bold cover image, it'll cause frustration among those desperate to find out more about the plot. There are no clues here! As ever, the JK Rowling guessing game continues..."
And from Galley Cat,
By Jason Boog on July
3.
J.K.Rowling eBook will cost US$19.99 Hardcover US$35
Little, Brown and Company
revealed the cover
for
The Casual Vacancy
today, a 512-page novel for adults from
J. K. Rowling
.
The hardcover will cost $35, the large-print hardcover will cost $39.00 and the eBook will cost $19.99–what do you think? Publication is set for September 27, 2012.
Here's more
about the book
: "When Barry Fairbrother dies in his early forties, the town of Pagford is left in shock. Pagford is, seemingly, an English idyll, with a cobbled market square and an ancient abbey, but what lies behind the pretty façade is a town at war. Rich at war with poor, teenagers at war with their parents, wives at war with their husbands, teachers at war with their pupils…Pagford is not what it first seems. And the empty seat left by Barry on the parish council soon becomes the catalyst for the biggest war the town has yet seen." (Via
Book Riot
)