Bring up the Bodies is first sequel to triumph in prize's 43-year history, and author is first woman and first Briton to win twice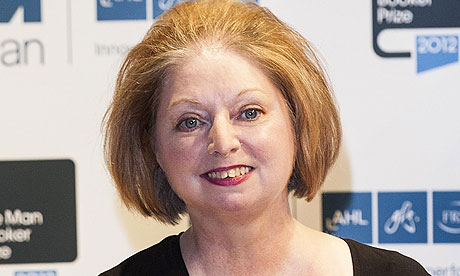 Hilary Mantel
has made Man
Booker prize
history by becoming the first woman and the first British writer to win the literary award twice.
Bring Up the Bodies, the blistering and bloody second instalment of her trilogy charting the life of Thomas Cromwell, was also the first sequel to triumph in the prize's 43-year history. The first instalment, Wolf Hall, won three years ago.
The chairman of the Booker judges, Sir Peter Stothard, called Mantel "the greatest modern English prose writer" working today, and said she had "rewritten the book on writing historical
fiction
".
"We are very proud to be reading English at the time she is writing. I don't think I've read any English novelist in recent years who has such complete control over the way she uses prose to do what she wants to do, like a singer or a pianist," Stothard said.
Mantel, 60, joins the Australian Peter Carey and the South African JM Coetzee as a double Booker winner. She triumphed from a shortlist that was striking in its contrast to last year when judges emphasised readability. This year it was about the power of prose, and re-readability.
"There is no point in having a text for this prize that is dead as soon as it is read," Stothard said. "There are many perfectly good books for which that is true – they are a good read but you wouldn't want to read them again. This prize is for books that will be read in decades to come and each time you read them they reveal something different."
The 2012 shortlist included challenging books, not least the hotly tipped Umbrella, by Will Self, written in a high modernist stream of consciousness with barely a paragraph break let alone chapters. The others were The Garden of Evening Mists, the second novel from the Malaysian writer Tan Twan Eng; Deborah Levy's Swimming Home; and two first novels in the shape of Alison Moore's The Lighthouse and Jeet Thayil's Narcopolis.
The decision, reached in two hours and 16 minutes, came after "a rigorous process of literary criticism", said Stothard, who edits the Times Literary Supplement. There was no vote, which he said would have been an act of desperation.
Full piece at The Guardian