Author's adult fiction debut sweeps aside its rivals, becoming the fastest selling hardback novel since 2009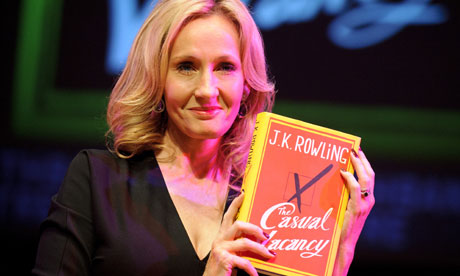 To put that in context, the figure is ten times bigger than the number two book, Bernard Cornwell's 1356, which sold 12,231, according to data supplied by Nielsen Book Scan, and more than 20 times bigger than the next new entry, Jackie Collins' The Power Trip. It also makes Rowling's book number 25 in the year to date's fiction tables and number one in the year to date hardback fiction table.

The book, Rowling's first foray into adult fiction, is the fastest selling hardback novel since Dan Brown's The Lost Symbol, which sold more than 550,000 in its first week of sale in 2009.
The figures are impressive but The Casual Vacancy will never compete with the eye spinning Harry Potter sales figures. When the seventh and final Harry title, Harry Potter and the Deathly Hallows, was released in 2007 for example, it sold more than 2.6m copies in its first week on sale in the UK, representing two-fifths of all book purchases that week.
A spokesman for Nielsen BookScan said: "JK Rowling's UK sales to date are of a value in excess of £238m, making her by far the highest selling author in the UK since our records began."

The release last Thursday prompted some rival publishers to push back launch timings for books expected to do well, with Ian Rankin having the release date of his latest work postponed until November.