Memé Churton is an ebullient and colourful character who, in the course of her lifetime, witnessed the rise of Fascism and became embroiled in the Communist Revolution. My old friend, former colleague and publisher David Ling paid warm tribute to "an extraordinary story about an extraordinary woman with a great zest for life", when he launched her memoir Memé: The Three Worlds of an Italian-Chinese New Zealander at a crowded Gus Fisher Gallery on Wednesday evening.
David talked about Memé's "almost accidental visit to New Zealand in the early 1950s at the invitation of a New Zealand soldier she had met briefly at the end of the war. Of her horror at the lack of sophistication she found here compared with Trieste and Shanghai. Of how she married her soldier and became friends with the literati and intelligentsia of the day, and with prominent politicians and businessmen." Memé was also a vibrant influence in her own right, helping to transform New Zealand culture in the areas of food, fashion, art and education and a very popular member of the Auckland University staff teaching Italian language and culture for almost 30 years.
As behoves Memé's popularity, many of her family, friends and former students were in the room, including Rene and Michael Fisher, Rosie and Michael Horton, Roger and Shirley Horrocks, Professor Nicholas Tarling and Gil Hanly. David made special mention of Memé's good friends Roger and Shirley Horrocks "who skilfully transcribed the tapes of her life story that she had carefully recorded and to whom are all indebted."
Memé spoke movingly and with humour about her family and friends who helped her through difficult times, and how she hoped that what she leaves behind will be an "on-going dynasty."
Roger Horrocks launches the book, David Ling in background
Meme addresses the gathering
Signing copies for her admirers
Meme with Michael & Rosie Horton
Michele Hewitson interview: Meme Churton
By Michele Hewitson
New Zealand Herald - Saturday Oct 20, 2012
The extraordinary memoir of an Italian-Chinese New Zealander is full of misery, miserliness and affairs. She arrived by flying boat in a land where houses smelled like mutton and cauliflower and women dressed badly.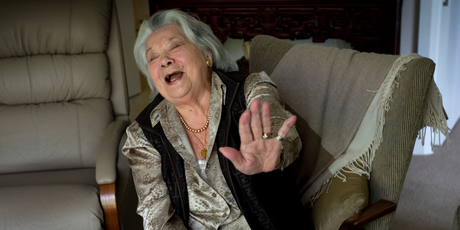 On Wednesday morning, Meme Churton came to the door of her Mission Bay townhouse impeccably made up, exquisitely groomed and accessorised from head-to-elegantly clad toes. She is 86 and still beautiful.
She has always been beautiful, and exotic. She is half-Italian and half-Chinese and has lived, on and off, in New Zealand since the day she arrived here, by flying boat, at Evans Bay in Wellington, on December 21, 1950.
Read Michele Hewitson's intervew at the New Zealand Herald